If you can't work and you need Social Security disability benefits, our attorneys want to help you with your claim. Longtime Spokane residents, Gary and Eric Penar have represented disability claimants at all levels of the Social Security system – including federal court.
For over two decades, our firm has fought to get disability benefits for thousands of people just like you throughout Eastern Washington and North Idaho.
Whether You're Filing For Disability or Filing an Appeal, Call Penar Law
If you're applying with a new application, let our attorneys help you with all the complicated steps of the application process. If you were denied and need to file a disability appeal, we can help. Either way, don't try to win disability benefits alone. The rules, procedures and laws are complicated – disability attorneys like us can help with your case.
If you need to file an appeal, you only have 60 days from the date of the letter to do so. Call Penar Law right away to get started with your appeal. Our attorneys have helped countless people in your shoes win the benefits they need – they know what you're going through and want to help.
Some out-of-state firms won't talk with you until the day of your hearing, but not Penar Law. When you work with our firm, you will have your questions or concerns addressed no matter where in the process you are. If you are unable to physically go into the office, we can handle your entire case over the phone and through mail.
There Are No Legal Fees Unless You Win
Penar Law has a legal team to help clients through the complex Social Security system. Our team knows the process, the pitfalls, and we genuinely want to help you get the disability benefits you deserve.
If you're ready to get help with your Social Security disability claim, contact Penar Law. Whether you live in Eastern Washington or North Idaho, we can help.
Attorney Eric Penar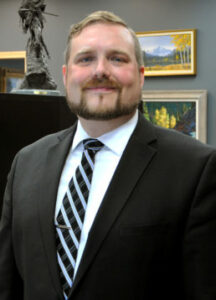 The dedication and passion Eric displays in his professional life is the same as his personal life, which he shares with his wife, Ronica, and their son, Logan. Spending time and playing with Logan is definitely a highlight of his life. When Eric is not fighting for Social Security claimant's benefits, you can most certainly find him skiing in the winter, whether at Schweitzer in Sandpoint, Idaho, Silver Mountain in Kellogg, Idaho, or 49 Degrees North Mountain Resort in Chewelah, Washington. In addition to hitting 60 mph on the ski slopes, Eric enjoys landscape photography, camping at Colville National Forest's Big Meadow Lake, boating on Lake Pend Oreille or Lake Coeur d'Alene, and he's even hiked Mount St. Helens!
Eric understands the value of the trust his clients put in his hands when fighting for their Social Security benefits – Eric's motto is to help who you can within your community with the tools that you have – and he does just that!
Contact Eric Penar now.